Please see the "2021 Presentations" tab for this year's schedule of TheLiving Stations of the Cross.
"From today onwards, I am going to strive for the greatest purity of soul, that the rays of God's grace may be reflected in all their brilliance." --St. Faustina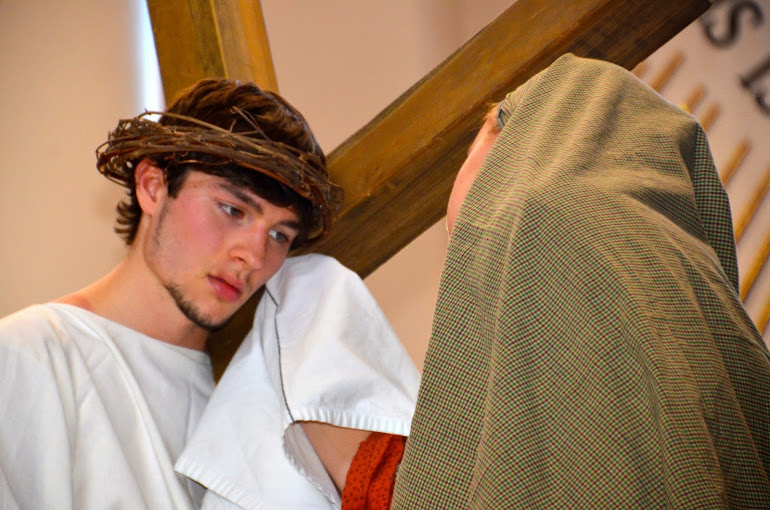 History of the Living Stations of the Cross
The first Living Stations of the Cross took place in 1998 with a group of only a few teens. A few families formed Servants and the Living Stations as a way to create a strong Catholic community with the purpose of sharing Christ's love.
Through God's grace and the guidance of the Holy Spirit, we have grown and presented to thousands of Catholics in the Twin Cities. Now we have approximately 50 young people, between the ages of 6 to 23, who take part in the prayer.
Some of the "original" teens who started off in Servants are now returning to the group with their own young children! In fact, one of the co-directors-played the role of Jesus for several years.
JESUS,
WE TRUST IN YOU!
Our deep devotion to the stations is a way to strengthen our faith and express our hope in Jesus' saving love. The Living Stations of the Cross is a prayer, not a performance. Each lent is a journey that our group takes together, one that is very personal to each individual.
Young men and women portray the essential roles in the Living Stations. Jesus, Pontius Pilate, Mary, Mary Magdalene, John the Beloved, Simon of Cyrene, Joseph of Arimathea, the men of Jerusalem, and the weeping women are just a few of the essential roles. The characters say no words but are instead guided in their actions by a lector and a cantor.
Please visit our "2021 PRESENTATIONS" page to see if you can attend this year! REMEMBER THAT BECAUSE OF COVID RESTRICTIONS, YOU MUST REGISTER!